Word Town: Expand Your Vocabulary
This game is the ultimate crossword game for word enthusiasts. With its addictive gameplay, attractive city themes, and thousands of mind-challenging puzzles, it offers a delightful way to expand your vocabulary and sharpen your mind. Whether you're a casual player or a dedicated word game lover, This game provides hours of entertainment and brain-teasing challenges.
How do you win?
This game is all about connecting letters to form words and solving puzzles. To win, you need to search for hidden words within the given letter blocks. Swipe up, down, left, and right to connect the letters and create words. Each puzzle has a unique theme, such as love, fashion, education, or games, adding excitement and variety to your gameplay experience. Plan your moves carefully to pick words in the right order and crush the letter blocks to solve the puzzles. As you complete puzzles, you'll unlock beautiful city themes to explore and enjoy.
Rules
The rules of this game are simple and easy to understand. Swipe in any direction to connect adjacent letters and form words. The words you create should be valid English words. Keep in mind that each puzzle has a specific theme, so try to come up with words related to that theme. If you get stuck, you can restart the puzzle or shuffle the letter blocks to get a fresh start. The key is to use your vocabulary and problem-solving skills to search and find cross words within the puzzle.
Scoring Pattern
This game doesn't have a traditional scoring system. Instead, the focus is on completing puzzles and progressing through the game. As you successfully solve puzzles and find hidden words, you'll unlock new levels and beautiful city landscapes. The satisfaction of cracking each puzzle and the joy of discovering new themes are the true rewards in this game.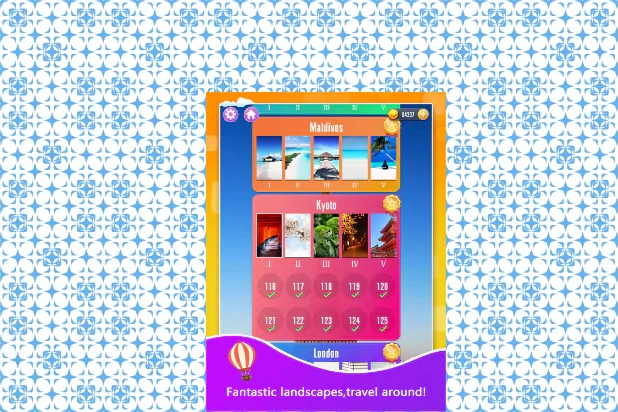 How to Set Up the Game
Getting started with this game is a breeze. Simply download the game from your preferred app store and install it on your device. This game is available for Android. Once the game is installed, launch it, and you're ready to embark on your word-finding adventure. No internet connection is required, making it the perfect game to play anytime, anywhere. So, whether you're killing time during your daily commute or enjoying a relaxing evening at home, this game is there to provide you with brain-training fun.
Are the ads in this game excessive?
We understand that ads can sometimes be frustrating. We apologize for any inconvenience caused by the ads in the game. We appreciate your feedback, and we are constantly working to improve the ad experience for our players.
Can I play this game without watching ads?
Absolutely! All puzzles in this game are solvable without using the shuffle or watch ad feature. If you run out of words and see the "OUT OF WORD" message, it means the order of your words isn't correct. You can restart the level and try a different word order. The shuffle option is provided as an alternative but is not a necessity.
Can the hint and shuffle buttons be moved to accommodate right-handed players?
We appreciate your feedback regarding the position of the hint and shuffle buttons. Our team has taken note of this suggestion for future game improvements. Thank you for bringing it to our attention.
Tips from the Geeks
Maximize Your Coin Rewards

Take Advantage of the Home Key

Share the this game Experience