Word Search Max: The Ultimate Word Game Challenge!
Are you a word game enthusiast looking for a new challenge? Look no further! This game is here to test your vocabulary skills and provide hours of brain-teasing entertainment. In this blog post, we'll explore everything you need to know about this addictive word game, from how to win to setting up the game.
How to win?
This game is all about finding hidden words in a grid filled with letters. To win, you must locate all the words listed on the game board. Simply swipe your finger across the letters to form words, and when you find one, it will be highlighted on the board. The challenge intensifies as you progress through levels, with longer words and more complex grids. So, stay sharp and keep your eyes peeled for those hidden gems of vocabulary!
Mode: Both Online and Offline
No. of Players: Single-player
Language: Multiple languages
Age Group: All ages
Price: Free
Devices: Android
Download Link: Android
Rules
Word Formation: You can create words by connecting adjacent letters vertically, horizontally, or diagonally.
Word List: A list of words you need to find is provided for each level.
Time Limit: Some levels have a time limit, so you'll need to be quick and efficient.
Hints: If you get stuck, you can use hints to reveal the first letter of a word. Use them wisely, as they are limited.
Scoring Pattern
Scoring in this game is straightforward but rewarding. You earn points for each word you find, with longer words and faster completions resulting in higher scores. Here's how it works:
Find a word: +10 points
Finish a level: +50 points
Use a hint: -10 points
The more words you find and the quicker you finish, the higher your overall score will be.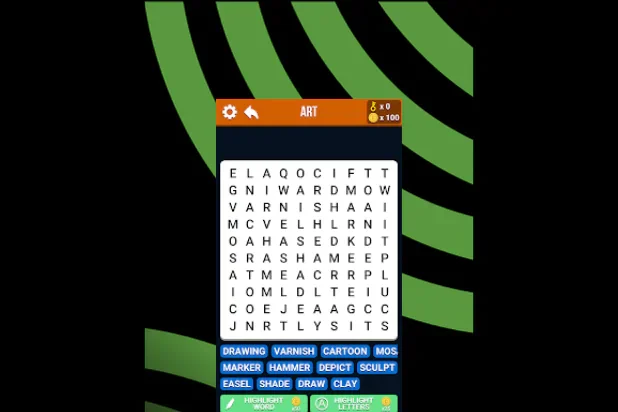 How to Set Up the Game
Setting up this game is a breeze. Follow these simple steps to get started:
Download the Game
Install the Game
Open the Game
Permissions
Start Playing
How often are new levels or updates added to the game?
Smart Lab LLC, the developer behind this game, regularly adds new levels and updates to keep the game fresh and exciting. Check for updates in your app store to access the latest content.
Tips from the Geeks
Start with Easy Levels
Use Hints Wisely
Time Management
Scan the Grid
Stay Persistent
Compete with Friends
Daily Challenges
Explore Power-Ups
Stay Updated
Have Fun