Unleash Your Word Power with Word Chums: The Ultimate Word Puzzle Game
Are you a lover of anagrams, word builder games, or crossword puzzles? If so, get ready to take your word game experience to a whole new level with this game! Rated 4.8 stars by Android users, this captivating word puzzle game combines addictive gameplay, stunning graphics, and an array of exciting features. Whether you enjoy solo challenges or prefer competing against friends, this game has something for everyone. Let's delve into the details of this remarkable game.
This game is the epitome of word puzzle gaming. Developed by People for Fun, the creators of the legendary Age of Empires, this game combines entertainment, challenge, and learning in a single package. Whether you're a seasoned word game enthusiast or a beginner looking to expand your vocabulary, this game is the ultimate word game for you. Download it now, embark on a wordy adventure, and become a word-building champion!
How do you win?
In this game, the objective is to create words using the provided letters and strategically place them on the game board. The more complex and higher-scoring the word, the more experience points (XP) you earn. As you accumulate XP, you level up and unlock new gear for your adorable Chums. Challenge yourself to reach the pinnacle of word mastery and become the reigning King or Queen of the Chums!
Rules
This game follows the familiar word-building gameplay that word game enthusiasts adore. It's designed to be easy to learn yet challenging to master. Rearrange the given letter tiles to form valid words, and watch as they validate instantly on the board. With a Scrabble-based dictionary at your disposal, you can ensure your word is valid before you play it. Prepare to explore the depths of your vocabulary and showcase your linguistic skills!
Scoring Pattern
This game incorporates a scoring badge that automatically indicates the strength of each word you create. The scoring system takes into account various factors, including word length, letter rarity, and placement on the board. Aim for high-scoring words to earn more XP and climb the weekly crossword game leader boards.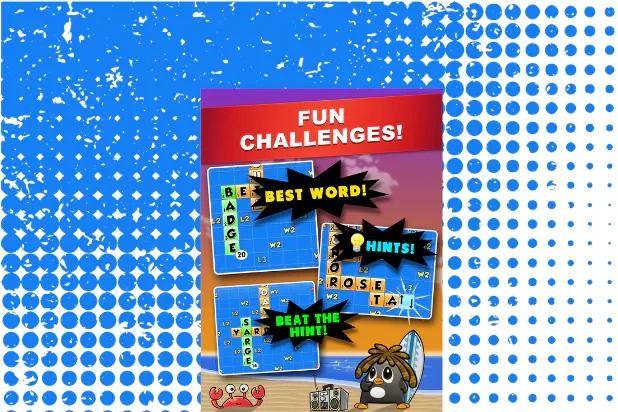 How to Set Up the Game
Getting started with this game is a breeze. Simply download the game for free from your app store and launch it on your Android device. From there, you can choose to play solo against the computer or enjoy multiplayer matches with friends. The game also features team mode, allowing you to team up with a partner for a couples word game online. The customizable Chum characters add a personal touch, letting you express your style and make your Chum truly unique.
Why does this game sometimes accept obscure words but deny common ones?
This game utilizes a comprehensive word dictionary, and while it aims to include a wide range of words, there may be occasional discrepancies. The game's developers continuously work on refining and updating the word database to provide the best gaming experience.
Why does the game not update during spotty cell service?
In cases of unreliable or weak cell service, the game may experience difficulties in updating in real-time. This issue is more likely attributed to the cellular network rather than the app itself.
Can I play against a computer opponent without experiencing any lag time?
Absolutely! When playing against the computer, there is no waiting time for a human opponent to make their move. This allows for a smooth and uninterrupted gameplay experience.
Tips from the Geeks
Utilize the Validity Indicator
Pay Attention to Star Ratings
Embrace the Chumbots
Enjoy Ad-Free Gameplay
Connect and Play with Friends