Word Cat: A Perfect Word Search Adventure!
This game offers a visually stunning design with beautiful artwork, immersing you in a charming and relaxing atmosphere. With over 1000 puzzles at your fingertips, you'll have endless hours of brain-teasing entertainment. Collecting stats allows you to monitor your progress and witness your linguistic prowess grow.
The game's unique feature is the ability to play every day, fostering a positive habit of exercising your mind. As you play regularly, you'll earn rewards and unlock special achievements, keeping you motivated and engaged in your linguistic adventure.
This game is the perfect game for word enthusiasts of all ages, whether you're a casual player looking for a relaxing challenge or a word aficionado seeking to expand your vocabulary. With no stress or time limits, you can enjoy the game at your own pace, making it ideal for quick brain-teasing sessions or extended gameplay sessions.
So, why wait? Join this game on this meow-nificent journey today! Sharpen your brain, discover new words, and indulge in the joy of word search puzzles. Download this game now and let the feline adventure begin!
How do you win?
In this game, your goal is to find and swipe your way through a grid of letters to form meaningful words. Simply connect adjacent letters in any direction to create words and earn points. The longer the word, the higher your score! Each level presents you with a new puzzle, and as you progress, the challenges become more intricate and demanding.
Rules
The rules of this game are simple and intuitive. You can form words by swiping your finger across the letters on the grid, connecting them in a continuous path. Words can be spelled vertically, horizontally, diagonally, and even backwards! Remember, you can only use each letter once in a single word. Challenge your vocabulary and try to discover as many words as possible within the given time or moves.
Scoring Pattern
This game rewards you based on the length and complexity of the words you find. Longer words earn you more points, and the game features a robust scoring system that tracks your progress. The game encourages you to strive for high scores, challenging you to improve your word-finding skills with each playthrough.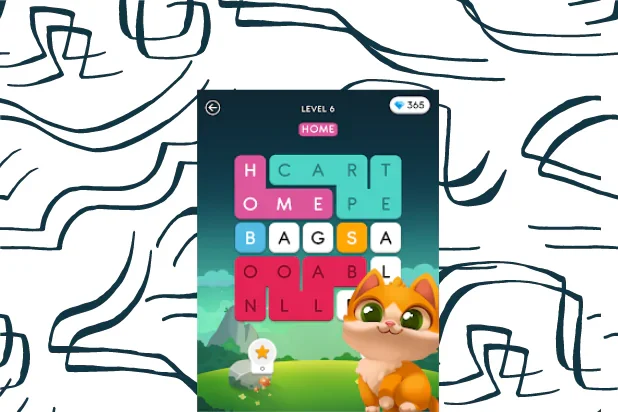 How to Set Up the Game
Setting up this game is a breeze! Simply visit the app store on your device, search for "Word Cat," and hit the download button. Once the installation is complete, launch the game and dive right into the captivating world of word puzzles.
Is this game suitable for players of all ages?
Yes, this game is a game that can be enjoyed by players of all ages. It provides a challenging yet relaxing word search experience, making it suitable for both casual gamers and word enthusiasts.
Does this game have a time limit for completing puzzles?
No, there is no time limit in this game. You can take your time to strategize and find words at your own pace, allowing for a stress-free and enjoyable gameplay experience.
Can I play this game offline?
Yes, this game can be played offline, making it a great game to enjoy even when you don't have an internet connection. You can play anytime and anywhere, whether you're on a plane or in a remote area.
How often are new puzzles added to the game?
This game features over 1000 puzzles to keep you entertained. While the game currently offers a substantial number of puzzles, there may be updates in the future with additional content to further enhance your gaming experience.
Tips from the Geeks
Expand your word search
Utilize the power-ups
Think outside the box
Play daily for rewards
Challenge yourself with time or move limits