Figgerits: The Ultimate Word Puzzle Game for Brainiacs
Join millions of word game enthusiasts who have already embarked on this incredible journey of logic, puzzles, and vocabulary expansion. this game is designed to engage, entertain, and sharpen your mental acuity. So, what are you waiting for? Download this game now and let the word-connecting adventure begin!
Remember, this game is not just any ordinary word puzzle game. It's a mind-bending experience that will push the boundaries of your intelligence. Challenge yourself, improve your logic skills, and boost your vocabulary while having a blast. Say goodbye to mundane logic puzzles and word search games and embrace the excitement and intrigue of this game!
How do you win?
In this game, winning requires unravelling the mysteries hidden within word logic puzzles and brain teasers. To emerge victorious, you must use your intelligence and word prowess to decrypt the message and decipher the cryptogram. By skilfully matching letters and numbers, connecting words, and completing solution dashes, you can uncover truisms and conquer the game's challenges. Challenge yourself, apply your deductive skills, and emerge triumphant in this game!
Rules
Utilize definitions: Make use of provided definitions to guess as many words as possible. Sharpen your vocabulary and stretch your mind to come up with the right answers.
Match letters and numbers: Connect letters to their corresponding numbers to fill the solution dashes. Keep in mind that each word may be associated with different numbers, so pay close attention and make the right connections.
Complete the wordlist: If you encounter dashes without letters, return to the wordlist and connect the words to fill the gaps. This step is crucial in progressing through the game and overcoming challenging levels.
Scoring Pattern
This game offers a dynamic scoring system that rewards your performance and puzzle-solving skills. Earn points for correctly guessing words, making accurate connections, and completing solution dashes. The more you excel in deciphering the cryptograms and solving the brain teasers, the higher your score will soar. Compete with friends, challenge yourself, and strive for the top spot on the leaderboard!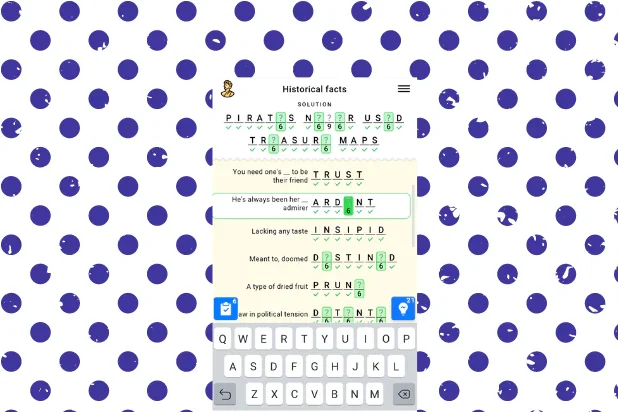 How to Set Up the Game
Getting started with this game is a breeze. Simply download the game from your respective app store and install it on your Android device. Once installed, launch the game and immerse yourself in its captivating world of word puzzles and logic challenges. With its intuitive interface and stunning graphics, this game ensures a seamless and visually appealing gaming experience.
Is there a way to sign in and save my progress in this game?
Currently, this game does not offer a sign-in feature to save your progress. However, the development team is constantly working on improving the game, and future updates may include this functionality.
Can I mute the ads in this game?
While it is generally possible to mute the ads in this game, some users have reported difficulty in doing so. The game developers are aware of this issue and are actively working to address it in upcoming updates.
Are there any in-app purchases in this game?
Yes, this game offers in-app purchases. Players have the option to make a one-time purchase.
Tips from the Geeks
To challenge yourself further, try solving the puzzles in this game backward or upside down. This unique approach adds an extra level of mental stimulation and enjoyment.
Need a brain workout? this game is the perfect solution. Instead of opting for more passive relaxation activities, engage your mind by solving word puzzles and sharpening your problem-solving skills.
If you're looking to enhance your vocabulary, this game can be a valuable tool. The game helps expand your word knowledge by providing definitions and encouraging you to guess as many words